CONTENT
Tutor and Student Newsletter:
In an effort to increase engagement, strengthen the community and grow our email list, I created a series of monthly newsletters for the tutor and student users. I was responsible for the design and content and even built the earliest versions using HTML and CSS - see example. As it developed, I worked with a formalized template provided by the tech team to input fresh and compelling content in a self-sufficient manner. Typically I would create a custom graphic or incorporate on-brand stock photography.
Email Marketing:
In addition to content-based newsletters, I established a new marketing email sequence to target students who create new accounts using the New Student Sign Up option (see below). The sequence contained a set of five emails, each designed to either inform (new features/updates), present value (coupon/discounts) or prompt them to take an action (search for a tutor/put billing on file, etc). I wireframed the design and outlined the series of 5 emails, utilizing original content from existing articles and selected on-brand stock photography.
Articles:
For the following articles, I created the design and built content using HTML and CSS. Typically I would create a custom graphic or incorporate on-brand stock photography. The goal of these articles was not only to engage and attract parent and student customers, but to support SEO goals by using relevant keywords and heavily searched topics within the education space.
Click titles to view More examples:
SOCIAL MEDIA MANAGEMENT + DESIGN:
I set out to establish a voice and brand personality to engage the company's community of users. I managed all social platforms including Facebook, Twitter, Tumblr, Pinterest, and Google+ using Hootsuite and Tweetdeck. I was able to more than double Facebook page likes and increased fan engagement by 700% year over year (2012-2014) with minimal to zero ad spend. I designed and created assets like sharable wall graphics, cover images and custom app assets using Photoshop, Illustrator , Piktochart, Canva and more.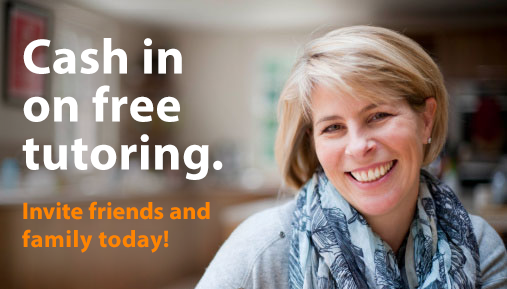 AFFILIATE MANAGEMENT + DESIGN:
I was the internal owner of the affiliate program which was hosted on the Shareasale network. I initiated the transition to a well-respected external management company in order to grow the program to the scale needed to reach its potential as a customer acquisition driver. I generated seasonal promotions and creative banners for affiliate partners and managed consumer-facing coupon offers. I designed web banners using Photoshop, rotated designs and messaging monthly, monitored redemption and click through. I expanded our publisher offering by uploading content articles and videos as links, and networked with key influencers in the mom blogger space.
ON-SITE USER EXPERIENCE
New Student Sign up:
I proposed and mocked up an alternative customer acquisition pathway called "New Student Sign Up". Prior to this pathway, users created an account only after they email their first tutor or post a general inquiry. I felt it was more instinctual and to offer a more deliberate account creation option. Now this option is contained in the main navigation of the site. Wrote copy and wireframed using Photoshop and Balsamiq.
New Homepage Design and Concept:
Used wireframing program Balsamiq to propose concept for "long" homepage design. Worked with contracted designer to propose variations on the theme to present to stakeholders and ultimately decided on the "After" design below. Drafted copy and took photography for employees featured in the design.